Fashion World's First BASK Toweling Blazer
 Imagine a beach friendly blazer that is the epitome of fashion and keeps you dry. That's exactly what BASK tailored terry cloth blazers do for both men and women.
First, like all great concepts, the idea started with two master minds. This husband and wife team were musing over what character's from "The Great Gatsby" would wear on the beach.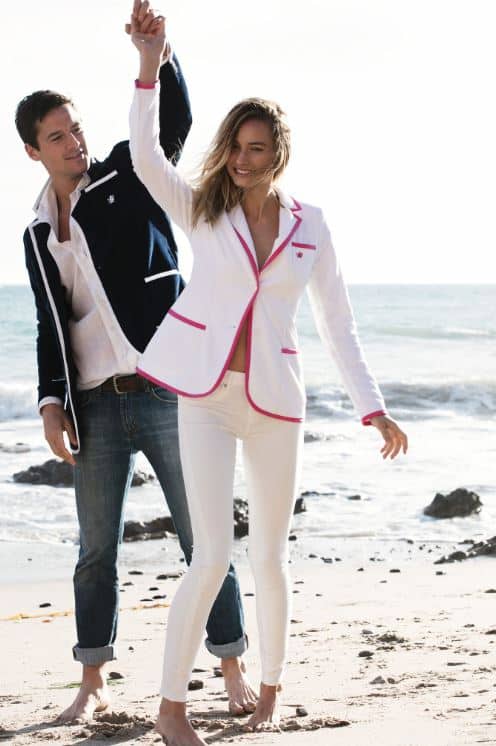 Then, Marko Andrus and his wife began travelling around the globe gawking at various beachwear. They knew that they had hit the jackpot for new styles because they didn't see anything like their blazers on the market.
For instance, as Marko Andrus pointed out in an interview, beach styles incorporated robes but not blazers. And in terms of new styles, he knew that a blazer you could take from day to night would be a hit.
Incidentally, many a fashion blog will have their eyes on the BASK styles. They come in varied clothes. There are eight options for women and eight for men as well. This "toweling blazer" looks as though it is among the most sophisticated that beachwear has to offer.
Accordingly, if you are finding that you crave new styles for beach wear, then meet the BASK blazer. Marko Andrus recommends the navy terry cloth blazer with Cherry Bomb Red trim for women. He also lists as his favorite the navy or white blazer with Capri Blue trim for males.
These New Yorkers have taken the fashion world by storm. They love their state; as Marko Andrus says, he's "never leaving". They also have taken care to create the world's most fashionable and functional beach and yacht attire.
Now, if you want to have a blazer you can wear on the beach and at a restaurant, you have BASK to thank for granting your wishes. With a monkey logo named after Gatsby's the Ripley Snells gang, you know you have a winning combination of style and taste.
The BASK Toweling blazer is the ultimate companion poolside, at the beach or on your yacht. Birthed on the idea of sun, bottomless rosé, and refusal to look anything less than sharp, it takes your style from the pool to cocktails seamlessly. Town & Country said "If Gatsby wore a coverup."
Made of 100% fine Turkish Terrycloth, tailored fit, and grosgrain trim. Available in range of colors. Order today!