Hello ladies! Welcome to the fashion world, where the rules are there are no rules. True style is all about expressing your unique personality in the stylish things that your wear. For all you Queens out there, this dazzling sequin style is sure to make you shine. From head to toe with glitz and glamour, this one of a kind ensemble is a head turner. Here's how to get the look.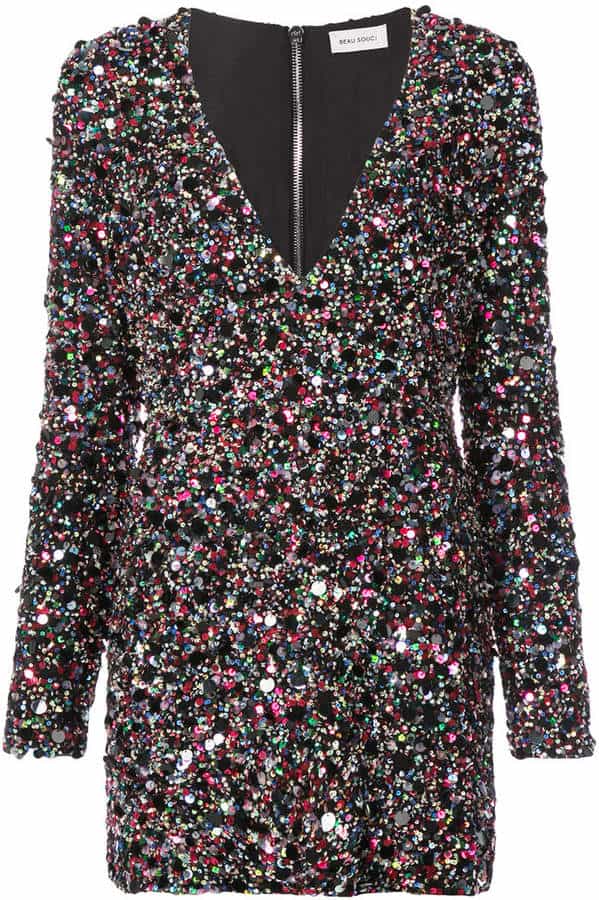 First, you'll want to start with this long sleeve black sparkle multi silk deep V-neck sequin dress from Beau Souci featuring a plunge style, long sleeves and a short length. This is a classy dress style, as it does not show too much skin but still offers a very classy and sexy feminine vibe. You will love the multi-color sequins that will be simply stunning in natural and artificial light. This just might become your favorite dress for night time special occasions.
Next, we paired this dress with black sequined pumps by Chinese Laundry. They offer the perfect addition to this dazzling sequin style, while still remaining somewhat subtle. The star of this look is definitely the dress, and we opted for accessories that complement the ensemble.
Additionally, we selected this Saint Laurent Sequin Handbag, that is the perfect match for the high heels, and also completes the sequin tie-in effortlessly. For this particular look, we wanted to maintain sequin consistency throughout, as adding in different textures would create disharmony in the overall style.
Moreover, to bring the colors to life, we brought silver jewelry into this look, with this gorgeous emerald necklace. This lovely pendant featuring a 6mm Emerald set in a 14k white gold filigree pendant. Also available with matching earrings and ring to complete the set. Every treasure comes with a complimentary lifetime guarantee and appraisal. Comes with a beautiful wooden keepsake box.
Finally, adorn your lady fingers with a simple silver ring with pear shaped ruby gemstone. This ring is available in all sizes, with personal customization available as well.
As your trusted fashion magazine, we give you access to the world's hottest fashion trends. What are you waiting for?! Add this dazzling sequin style to your closet today!
SHOP MORE SEQUIN STYLE NOW!!!