Luxury Sports Car: Jaguar F-Type R Coupe
Jaguar has a new machine, a luxury sports car, the Jaguar F-Type R Coupe. The model is a complete redesign of the stunning coupe and convertible of 2015. From the outlook, it looks fantastic and more powerful.
Like its predecessor, the new F-Type R is available as a coupe and convertible. The R model also comes with an encompassing cabin as it charms her passengers with the snarling supercharged engine. Besides, they have a four-cylinder version with a lower entry cost. 
Engine Performance of Jaguar F-Type R model
The drivetrain roaster of 2021 F-Type R is different; it's more simplified than on previous models. Yet, the engines still pair and perform well with the eight-speed automatic transmission.
In performance output, the new R model looks good. The reason being, it uses a supercharged 5.0-liter V8 engine, which delivers 575 hp and 516 pounds of torque. Likewise, the luxury car does zero to 60 mph within 3.5 seconds, while on top speed.
These levels of performance became possible after several upgrades. Some of them include valve recalibration, revised upper ball joint, and new rear knuckles. They also added some touch control algorithms to better speed and control.
To top it up, they recalibrated the steering wheel with new anti-roll bars and springs. Thus, the steering feels well-connected and offers a better driving experience.
Interior and Exterior of a Luxury Sports Car
Apart from adding premium vibes to the interior, they maintained the driver-centric design. They then decorated the inside with a mix of racy and luxurious materials such as Windsor Leather, Noble Chrome, and Suede cloth. Similarly, they included beautiful details like monogram stitching on door trim and seats.
Jaguar incorporated modern technology as part of the upgrade. For example, they installed a 12.3-inch configurable HD TFT instrument cluster. It features all InControl Touch Pro Infotainment systems from the brand. Furthermore, the cluster has unique graphics only for the F-Type and three display themes.
The exterior styling is beautiful, as earlier mentioned. Hence the model stands out from the previous F-Type. It downs new and revised headlights and taillights. Plus, it showcases more badges on the outside.
On the rear side, Jaguar introduced thin LED tail lights, which make the back shape appear wider. They also mounted a quad-tipped dual exhaust on the rear corners.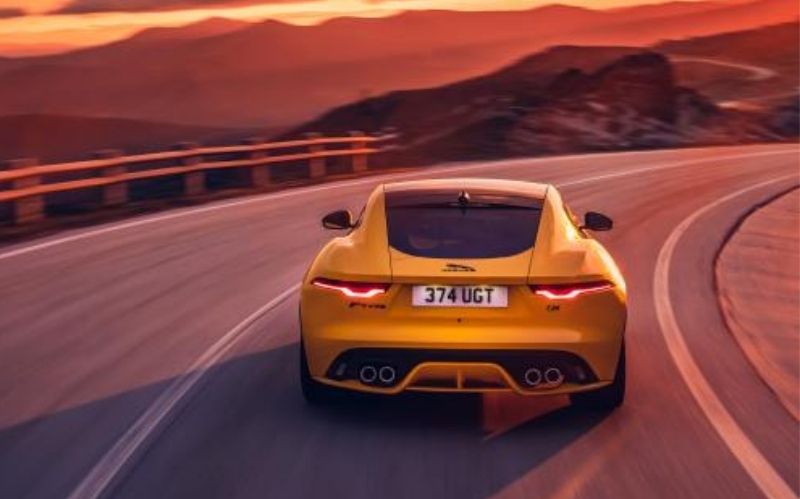 Price of Jaguar F-Type R Model
The price of the convertible version of the R model ranges from $106,925. Those preferring a closed roof they can opt for the coupe version that is selling at a lower price of $104,225.
Conclusion
In all fairness, the 2021 Jaguar F-Type R meets the billing of a luxury sports car. The facelift and performance enhancements make it a threat to reckon. But wait, the brand does one better than its rivals. The British carmaker offers complimentary scheduled maintenance coverage.
The F-Type R is more than sharper looks or improved handling. More importantly, the luxury sports car exhibits a bright future for upcoming versions. But for now, it has given enthusiasts confidence and a fast car to admire.