Luxury private jet, Learjet 40, is a derivative of Learjet 45. The fuselage measures about two feet less and holds less fuel compared to Learjet 45. Moreover, this luxury jet features incredible technological advancement in the small aircraft category. (Images Credit: Private Jet Charter)
Learjet 40 is a product of Bombardier Aerospace. An aircraft brand renowned for offering private jets that fit different spectrums. Either for business errands or holiday trips, this light efficient aircraft will take you there at a friendly cost. 
The first introduction of Learjet 40 was in August 2002 as a prototype. Then, the following month, September 2002, the jet made her first maiden flight. However, the official launch was two years later, in January 2004. For more information on this luxury private jet, read on.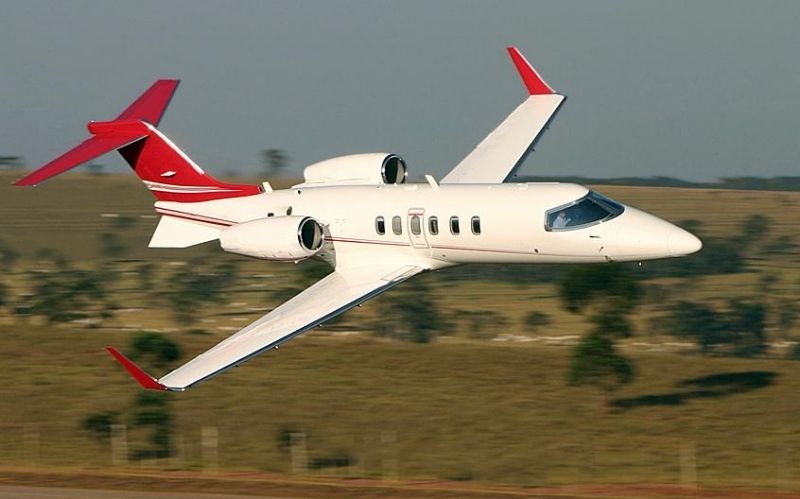 The Cabin Area and Specification of Learjet 40
Although the cabin of Learjet 40 is smaller than that of Learjet 45. It's still the biggest in her class, with an actual cabin volume of 363 cubic feet. It comes installed with spacious seats that accommodate seven passengers. Also, the baggage compartment stores up to 65 cubic feet of baggage.
The seating configuration includes four in a club arrangement and two facing forwards. Also, the business jet has an externally serviced toilet. But in a way, it acts as the seventh seat when belted with a lavatory option. On top of that, the manufacturer created a gulley and coat closet on the cabin's entry door. 
The cockpit design features a dark panel concept, which switches lights off when in standard operations. Likewise, the control panels, instrumental panel, and system schematics are in a logical setup, making the pilot's job easier and flight safer.
On the avionic, the Learjet 40 features an enhanced Honeywell's Primus 1000 system. It contains four 200x180mm cathode ray tube screens, a display screen for all engine indicators, and an alert system (EICAS). The traffic collision avoidance system (TCAS) and the Honeywell ground proximity warning system (EGPWS) are the highlights of the avionic package. The two safety features ensure the pilot is alert in case of any hiccups. 
The Output and Performance Prowess of this Private Jet
Learjet 40 is one of the leading contenders in the luxury private jet market. Her cruising speeds are outstanding, and get lots of envy from competitors. Furthermore, the jet can take nonstop flights thanks to range capability and still do quick elevation above most air traffic and foul weather.
According to data, the jet records cruising speeds of 852km/h and can still proceed as fast as 865km/h. The light plane needs 4,250 feet at sea level runway to take off a maximum weight of 20,350 pounds. Albeit, it can take off at high altitudes of 4,330 feet and fly nonstop for 2,248 miles. 
Despite the takeoff weight being 20,350 pounds, it only needs 4,250 feet at sea level runway to take off. The fuel consumption levels are low because of the aerodynamic design. Above all, this prowess and capability are courtesy of two Honeywell TPE731-20AR-1B engines.
Selling Price
The price of Learjet 40 ranges about $8.0M. So, if you need to buy or charter this or any other luxury jet, visit online dealers like Viller Jet. 
Last Take
Bombardier designed Learjet 40 from an existing aircraft because of several factors. They include speed, comfort, system enhancement, reducing maintenance, and pilot's workload. However, market acceptance was a significant catalyst for success. 
To sum up, Learjet 40 cost less than her close competitors. Her operation costs are within a one percent per kilometer basis. Therefore, owning this luxury private jet not only make sense but is a delight in itself.