Searching far and wide, we love to discover rare talent that deserves a little light to be shone upon it. Introducing RMoodie, an artist with a unique gifting that is sharing his talents for all the world to see.
RMoodie began his career as founder of KraftMaid Cabinetry. He grew his company to one of the largest built to order cabinet companies in the United States with over 2500 employees. His company is well known throughout America and Europe. Today RMoodie spends his time creating 3 dimensional art, and wood carvings. His knowledge of different finishes, wood processing, designing and fabricating custom leaded glass doors and furniture design prepared him for creating his unique art form of works under exploded glass.
He is launching RWALL d'ART, an exciting new exhibit space in Beverly Hills will be a vibrant destination where prodigies of the art scene, merge with the master artists. Co-founder RMoodie, wants to make art more approachable. "More than a gallery, it's a concept where we'll showcase the artists in innovative ways, a place where art and people meet."
Let's learn more about this exciting adventure in the art world.
Beverly Hills Magazine: Please tell us a little about yourself. Where are you from, where did you grow up, any training or education background?
RMoodie: I grew up in Cleveland, Ohio. I was educated there, fell in love there and created an internationally successful business there. For ten years I developed my dream home much of it built by local Amish tradesmen.  It was on seven-and-a-half acres in Moreland Hills' estate. Dubbed "Casa de Kraft maid" it was my passion project. After I sold my company and my house I moved to Beverly Hills via Dominica Republic (where I lived for six years) to begin a new chapter in my artistic life. Two spaces, two business, one inspiration. RWALL d'Art and RWALL Paint Lounge.
Beverly Hills Magazine:  When did you discover your talent as an artist?
RMoodie: I was in the world of design but on a much bigger scale. I founded KraftMaid Cabinetry which became one of the largest built to order fine cabinet companies in the world. I had over 2500 employees. After my wife of 31 years passed away from cancer I sold my business and moved to Dominica Republic, here I was inspired by the work of artist Mariela.  Under her direction I began to explore new techniques that inspired me on my road as an artist.
Beverly Hills Magazine:  How do you prepare for each new piece?
RMoodie: Once I have a concept I create my flat art piece, that's when the fun begins. I then create the 3-dimensional aspect by exploding glass into it. Then I start the process of applying several layers of epoxy adding design when desired between each layer. This is an original technique that I have developed.
I frame each piece with solid black walnut, the same specimen's I used to start KraftMaid Cabinetry. It's gone full circle for me.
Beverly Hills Magazine:  What inspired you to use wood and glass, of all materials to choose from out there?
RMoodie: I have always worked with wood. My time at KraftMaid gave me the knowledge and expertise of working with different finishes, wood processing, designing and fabricating custom leaded glass doors and furniture design prepared me for creating this unique art form of works under exploded glass.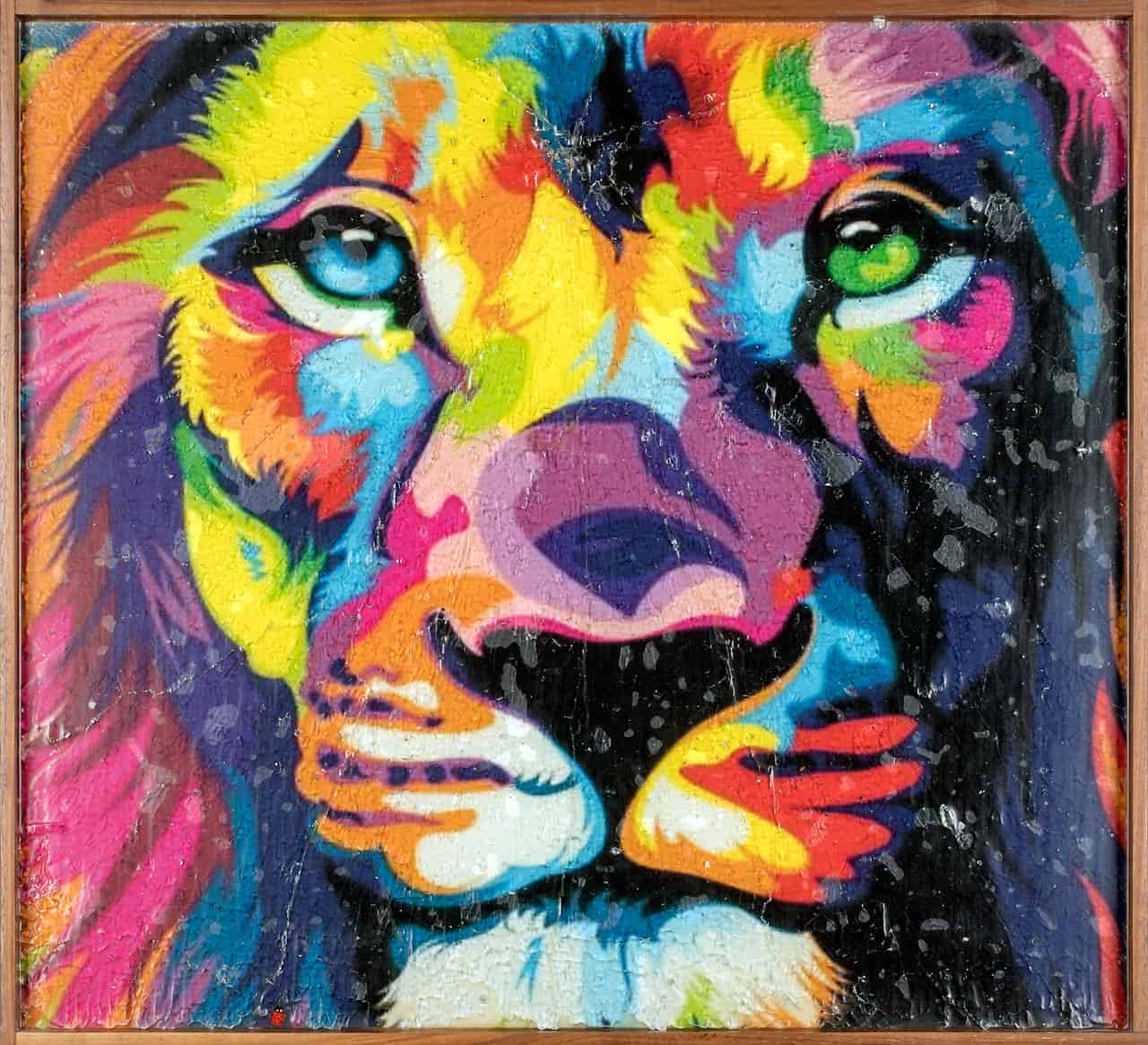 Beverly Hills Magazine:  Where do you get your inspiration?
RMoodie: I don't like to live by the rules. I have always been troubled by the possibility that things may not be what they appear to be and certainly not what they are said to be. As a result, I see most beliefs (even religion) as a form of dogma. I prefer to ask daring questions I like to explode glass! It's my self-expression, my message to the world.
People inspire me, and I want to inspire them. The Paint Lounge concept is a revolutionary         way to create art, enjoy food, wine and bond with friends new as well as old. Already big              on the east coast, I want to bring it to the west coast with a bang. A place where you can reconnect to your artistic side, in a fun environment. An inspired menu: Dominican meets             Amish recipes, alongside a 30 tap self-service wine and beer pouring system.
Beverly Hills Magazine:  What is your art signature? What makes your work unique?
RMoodie: As I mentioned each of my pieces are original and can't be made into a print. I also add a lucky charm into each of my pieces to bring good luck the new owner.
Beverly Hills Magazine:  Why do you think art is such a valuable collector's item?
RMoodie: The value of art is a combination of elements, but for me it is about originality and quality. It is a form of creative human expression, a way of enriching our personal experiences. I believe you should buy art because you love it, loves its message.
Beverly Hills Magazine:  How are collectors an important part of the art world?
RMoodie: Collectors understand art's basic value, they stimulate the market and they shape how art is experienced and remembered. I am interested in the changing landscape with the use of  social media platforms, traditional methods of selling and communicating are changing. A collector can inquire about a piece and buy it in an instant. As much as I appreciate collectors I also love it when people buy my art from a personal perspective, because they have engaged  with a piece and the way it makes them feel.
Beverly Hills Magazine:  What message do you hope to convey through your work?
RMoodie: A lot of different messages just some include: True Love Never Dies,  dedicated to my late wife and to all those who have lost or misplaced their true love. Women is a shout out,  I believe god created woman perfectly however I think man is still work in progress…and Dream to remind people to pursue their dreams and goals.
Beverly Hills Magazine:  What advice would you give to aspiring artists out there?
RMoodie: Just do it! I love this quote…"Don't think about making art, just get it done. Let everyone else decide if it's good or bad, whether they love it or hate it. While they are deciding, make even more art." ― Andy Warhol
Beverly Hills Magazine:  Have you discovered a personal purpose in what you do?
RMoodie: My aim for RWALL d'Art is to make art more approachable by creating personal connections with our artists. I want to surprise, challenge and engage the viewer and collector. Currently we are a group of six multimedia artists. Alongside my work we are painter Mariela, sculptor Giancarlo Calicchia, fine scarf designer Maya Roth, paint teacher Mindy Howland and the jewelry of Isaac Kay. Together we are the RPack.
Beverly Hills Magazine:  Where can readers keep up with you?
RMoodie: We welcome your readers to visit our space in Beverly Hills at 350 N Canon Drive. We invite them to join us for discussion, art and a drink. More information on RPack artists and upcoming events can be found at www.rwall.com and on Instagram @rwallgallery.
Beverly Hills Magazine:  Anything else you'd like to add or share?
RMoodie:  When your readers come by, they can ask for special access into the Red Room Vault where we display some of the masters of the present and the past, such as Picasso,  Salvador Dali, Andy Warhol, Tom Wesselmann, Marc Chagall and Paul Klee.
RWALL Paint Lounge will be opening this May, stay tuned for our pioneering program and fun  events for all ages.