Located in the South Pacific, nearly midway between Australia and Mexico, Bora Bora is part of French Polynesia. The country consists of a small island surrounded by a circle of islets. Frankly, Bora Bora is the picture perfect vision of the quintessential tropical vacation.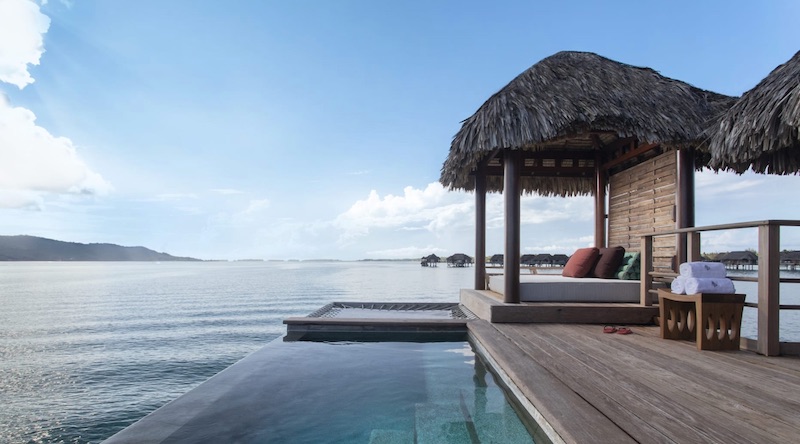 Unforgettable Accommodations
The Beachfront Villa Estates at Four Seasons Bora Bora seamlessly blend luxury with seaside living. Open floor plans, soaring thatched roofs and an abundance of windows make for breezy, light-filled days. Villas are available with one, two or three bedrooms. The largest boasts 5,380 square feet of space. Bask in the sun on one of the secluded terraces, relax in the hot tub or swim in the private infinity pool. And when the sea is calling, enjoy the solitude of your own beach cabana. 
But for a more memorable holiday, an overwater bungalow is a must. While the ideal of any tropical vacation, this style of guest quarters is not overly common. In fact, less than 200 resorts have these luxurious huts available.  
 Not only is Four Seasons Bora Bora one of the few with overwater bungalows, they have seven styles from which to choose. Two styles, the Poerava and Hernui each have two bedrooms making them great for a friend's getaway. The remaining five have only one bedroom providing a more intimate vacation. From all, enjoy an unobstructed view of the lagoon and Mt. Otemanu. Moreover, each overwater bungalow offers direct access to the waters below.
Inviting Restaurants
Aside from delightful cuisine, each restaurant at Four Seasons Bora Bora keeps the beautiful waters of the South Pacific in the forefront. Arii Moana is tropical fine dining at its best. Enjoy the Polynesian/French fusion fare under a thatched roof on the water's edge. For the freshest seafood and sushi, Sunset Restaurant & Bar offers an Asian-inspired menu. Moreover, the restaurant sits directly over the water. 
Fare Hoa Beach Bar & Grill is decidedly more casual. Located right on the lagoon, all-day dining, live music and scrumptious cocktails make for a relaxing spot. Taking breakfast at Tere Nui is a great way to start the day. The open air restaurant overlooks the lagoon and has a stunning view of Mount Otemanu in the center of Bora Bora.
And for an experience unlike any other, order room service. For those staying in an overwater bungalow, your meal will be delivered by Polynesian canoe! Aside from a full menu, room service can also bring to-go boxes, perfect to take on an activity or upon check-out. 
Relaxing Spa
What would a tropical vacation be without at least one relaxing spa treatment? From facials, massage, sun therapy, specially-designed men's services and beauty treatments, pampering is surely on the menu. But it's the rituals at Four Seasons Bora Bora spa that are most special. Designed to bring ancient traditions together with Western practices, these services create a new balance within the body. 
For the most incredible experience, enjoy the Golden Sun Embrace ritual in the couple's overwater spa suite. While enjoying a coconut and gold body scrub, massage with a signature 24 carat gold oil and a Nano Gold face mask, lay on a treatment table that hovers above glass panels to observe sea life within the lagoon.    
Sign Up For The Free GOD Foundation Travel Portal for 60% Off Travel Deals Today & A Portion Goes To Charity!!!
Younger guests can also have a memorable spa experience during their stay at this luxury hotel. The Nainai Spa specializes in facials, massages and manicures for children ages 11 through 17.
Beyond spa services, Four Seasons Bora Bora invites guests to indulge in the relaxation lounge, steam room, sensory showers and outdoor vitality pool. Yoga and Pilates classes are also available.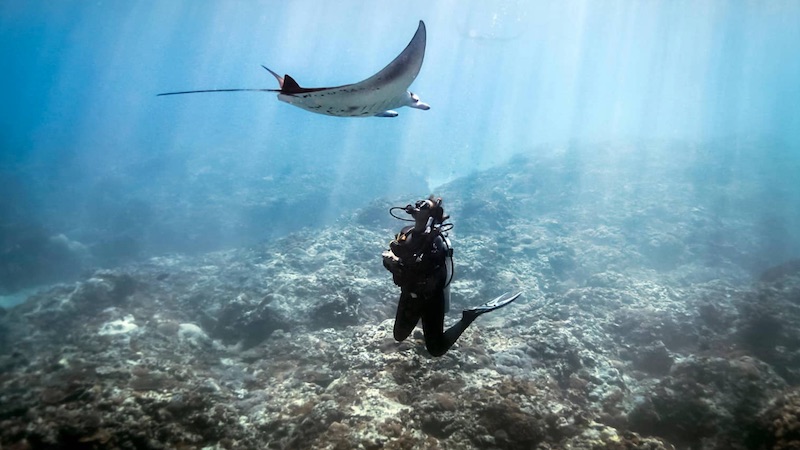 Ultimate Tropical Vacation Adventures
Any tropical vacation comes with the expectation of memorable experiences. And Four Seasons Bora Bora does not disappoint! The waters of the South Pacific are ready and waiting to entertain. Try stand-up paddleboarding, kayaking, scuba diving, snorkeling, fishing with speargun, and kite surfing. Wave runner tours explore the lagoon. Marine biologists can even take you on a guided swim of the underwater reef ecosystem. But for a once-in-a-lifetime experience, schedule a Polynesian tour on an authentic outrigger canoe. 
The opportunities for fun still abound for landlubbers. Tour surrounding islands on a luxury yacht. For a memento of your travels, one of three professional photographers, Damien Gobron, Sadry Ghacir or Marc Gerard, are available for personal photography sessions. Even meet painter and Bora Bora local Alain Despert for a tour of his studio, guided walk through the Four Seasons Bora Bora art collection, and dinner with the artist.
As for the younger members of your party, this luxury hotel will make the most of their tropical vacation as well. Their Kids For All Seasons camp provides memorable and educational programs to delight kids aged 5 to 12. The Tamarii Club also has video games, a playroom and a splash pad. Children also receive a welcome gift upon arrival. 
Romance Abounds
Not surprisingly, Four Seasons Bora Bora makes an excellent choice as a wedding venue. A ceremony on the outdoor terrace or beach would be quite memorable. Four Seasons Bora Bora even has a charming wedding chapel on the property. However, for a truly unique event, say your "I Dos" on a catamaran while floating on the crystal clear waters!
This luxury resort will assist in every facet of your dream day. On-site wedding planners can help you choose the best wedding package for your needs or help you create your own customized affair.  
Stop daydreaming about a tropical vacation. Instead, wake up in paradise at Four Seasons Bora Bora.
(Images Courtesy of Four Seasons Bora Bora)