New York City is one of a kind and it is one of the most sought out destinations for tourists and Americans to visit. The city that never sleeps is, in fact, 100% true, and it can be jolting for those who have never been. Going to New York for the first time takes courage and an open mind. This city is rolling 24/7 and will not stop because you are nervous. (Images Credit: Pixabay)
Planning a trip to NYC, whether you want to travel with a large group by bus or fly hundreds of miles by yourself, can be stressful. There are many things to do and places to go and see. You have to factor in costs for everything because it is quite expensive to visit this busy city. You must do your research to make sure that you are prepared mentally and physically for your wild ride. Here are some important tips to consider when getting ready to vacation in New York City.
1. Taxis aren't always the best way to get somewhere
Taxis are and will continue to be the most expensive things to pay for in New York. Taking a taxi may seem nice but it isn't as simple or cost efficient as it may seem in the movies. The best way to get around is to walk or take the subway or bus. Do not waste your time in traffic or your money on trying to hail a taxi.
Make sure you have your metro card for those long distances that you won't want to walk for. It is about $2.75 per ride and can be a more exciting way of transportation. Remember that the subway isn't just for the poor, everyone uses it as transportation no matter the age, social status, or race.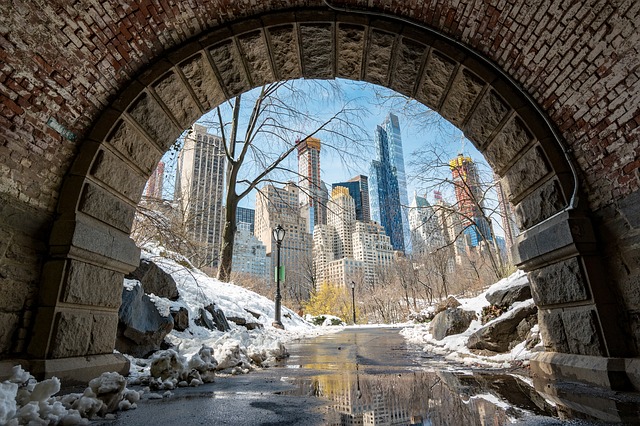 2. Central Park holds up to the hype.
You will most definitely fall in love with Central Park. It is always hyped up to be such a beautiful park that doesn't disappoint and it is all true. Explore the entire park and visit as many of the spots and restaurants as you can on your first trip to NYC. You could just sit back and simply enjoy the scenery or jump up and walk around.
Sign Up For The Free GOD Foundation Travel Portal for 60% Off Travel Deals Today & A Portion Goes To Charity!!!
3. Eating out is extremely expensive.
Eating out is a dangerous game when it comes to budgets. Restaurants, whether they are fancy or fast food, in NYC are extremely expensive. You will need a budget of at least $200 a day to be able to eat out frequently. It's hard to decide what to eat and where, but choosing cheap foods may be ideal for your pockets, even though they are the least healthy.
Places to eat that are relatively cheap and healthy:
Loco Coco
Eva's Kitchen
Jajaja
Cava
Dig Inn
MIGHTY Bowl
Lite Delights
4. Be prepared to wait.
There are millions of people living in NYC so be prepared to queue almost everywhere you go. Also, make sure to factor this into whatever you are doing that may be time sensitive. You may even have to wait to use the restroom most of the time. Everything is crowded all of the time and you will have to be ready to wait and stand to get into places

5. Don't be afraid to try the street food!
Don't be afraid to try the food being sold on the street. You may be frightened or skeptical but it is perfectly normal to eat from corner shops and food trucks. Take advantage of these stands that are selling all kinds of foods. You won't regret the amount of flavor you will experience. Keeping an open mind is important when visiting New York City.
6. Coffee is EVERYWHERE!
Everyone is constantly on the go, and you need energy for that. Caffeine is something New Yorkers love and appreciate. It is prominent in every one of their lives and you will see a Starbucks on every street and corner. Though these shops will be a little pricey, you may need a little boost to get you through the day of walking and exploring.
7. Leave room for flexibility
Don't over plan when you are taking a trip to NYC. You need a little flexibility because this city will pop things at you unexpectedly and you may not make your plans in time due to wait times or other incidents. It's great to have room for spontaneity when you are exploring this grand city. There are so many interesting things to do and you don't want to be confined to what you thought you wanted to do before you arrived. Somethings you just shouldn't do when you are visiting a city like this one.

8. Go see a Broadway show!
Every first timer should experience the liveliness of the Broadway shows in New York. From silly musicals to serious plays, Broadway has many options for your taste. Make sure to research beforehand to know what shows are happening during the days of your visit. If you want to be spontaneous, then don't research much and just attend whichever show is happening at the time you want. This will allow new experiences and you without a doubt will appreciate your time spent there regardless.
9. Don't be easily scared
Don't be frightened to have to walk down the streets of New York City. Relax and become a little comfortable and you will enjoy your time. But also don't be too careless and regret it later. Being mindful is important when you are within a group and especially when you're alone. Exercise your caution and make sure to pay attention to your surroundings.
10.  Dress accordingly.
Make sure to consider the weather when traveling to the North. It will be cold in the winter and may even be a little chilly in the summer. Pack accordingly so you won't feel out of place or uncomfortable. When it's cold in NYC it is seriously cold. Don't think you can visit in the winter months and not pack a heavy coat. Plan your visit based on this factor as well, if you hate the cold do not plan to vacation during January, per se.